The Manual Co. bags in a new campaign on the streets of Milan
When we say Milan, we think of Piazza dell Duomo, pigeons, busy streets, espresso, and melted cheese on pizza. 
We also remember all the great artists, such as Michelangelo, Leonardo da Vinci, Enrico Caruso, and Giorgio Armani… 
They all lived and created their art in this fantastic city. 
But Milan does not only have an impressive history. This city is modern and vibrant, and it gathers designers, influencers, and fashionistas from all over the world to experience the specific energy of the place and see the latest trends through the lenses of Italian creative directors.
The Manual Co team is going to Milan
There are many reasons why people fall in love with this city. For us, it was a working atmosphere, Italian energy, and passion in perfect harmony with old architecture and fashion. But, of course, you already know that we love that mix of traditional and modern. That's why, when the idea of a trip to Milan was born, we didn't think twice; we packed our leather bags and headed to the airport.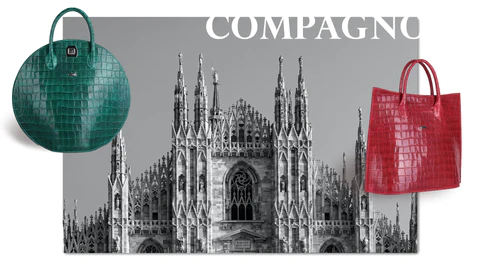 Fashion Week in Milan
We managed to arrive just in time for Milan Fashion Week. Beautiful people, fabulous clothes, and all the most amazing Italian brands were there. You could feel the excitement, the smell of espresso, and the rush on the streets and squares. We've seen great fashion collaborations, street fashion inventiveness, and lots of exciting vintage pieces that are our frequent inspiration.
Yet, we saw real Italian women when we put aside everything that happened on the runway, backstage, and in front of the fashion venues. They were running in high heels, drinking coffee from their feet, dressed in their long autumn coats, and completely mesmerizing us. 
These were the women who inspired us the most. Real business women who love practical yet modern details in their wardrobes. We create our leather goods for such women.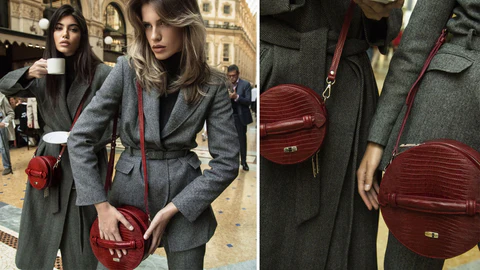 Manual Co. Bags on the streets of Milan
In the new campaign, which was filmed in the very center of the city, we tried to feel the pulse of this fashion capital and bring you bits of inspiration through this campaign. The models wore models that are well known in the domestic market, but an extra wow effect was needed. It was vegetable skin.
This kind of leather is really rarely used today. Still, it has that specific leather smell and particular properties. It is the best for making bags because it allows the leather to develop an interesting patina on its surface that makes the bags even more beautiful as time goes by.
Although it is extremely rare for bags to be made from this kind of leather, this year, we decided to opt for precisely that production principle.
Like any leather accessory, these bags can change a little over time due to the conditions in which we store them. They can darken a little if you keep them in direct sunlight and vary in places where you hold them and touch them often. They have more wax and more oil and remember hand touches. In this way, each bag is in a constant process of change and becomes more original and personal the longer you have it. This is our way of bringing our bags even closer to our customers because our bags are more than fashion accessories. They are an heirloom that stays in the family and whose value increases as the years pass.
How to wear The Manual Co. bags?
There are various occasions when you can complete your outfit with a classic and modern bag from The Manual Co. collections. You can choose larger bags for days when the to-do list is too long. That way, you can keep all the things you need next to you and look like everything is in its place.
Another and more fun way is to choose a bag with a geometric shape that will complement your coat and that you can use when you go out for coffee with friends.
There is also the option to pair them with jeans and spend quality alone time at the mall. Simplicity and a few details, such as a geometric bag and red lipstick, will go a long way in getting you ready to leave the house in no time.
Below you can see photos of our new collection from Milan.
We are waiting to hear your impressions.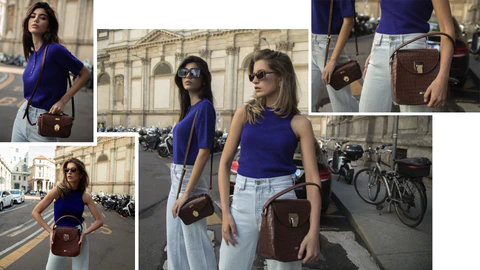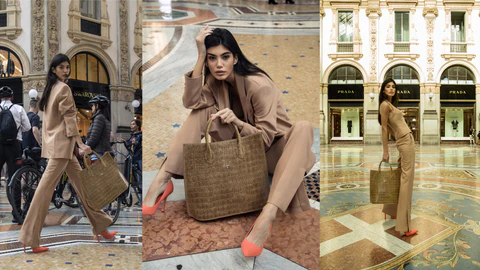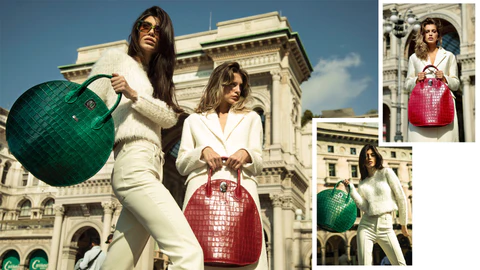 Fotography: Marija Andrić Models: Katarina Djukić i Lana Aleksić